Thin conservative composite veneers were placed to enhance esthetics all in about two hours with no anesthetic required.

Thin veneers on the 6 anterior teeth and posterior crowns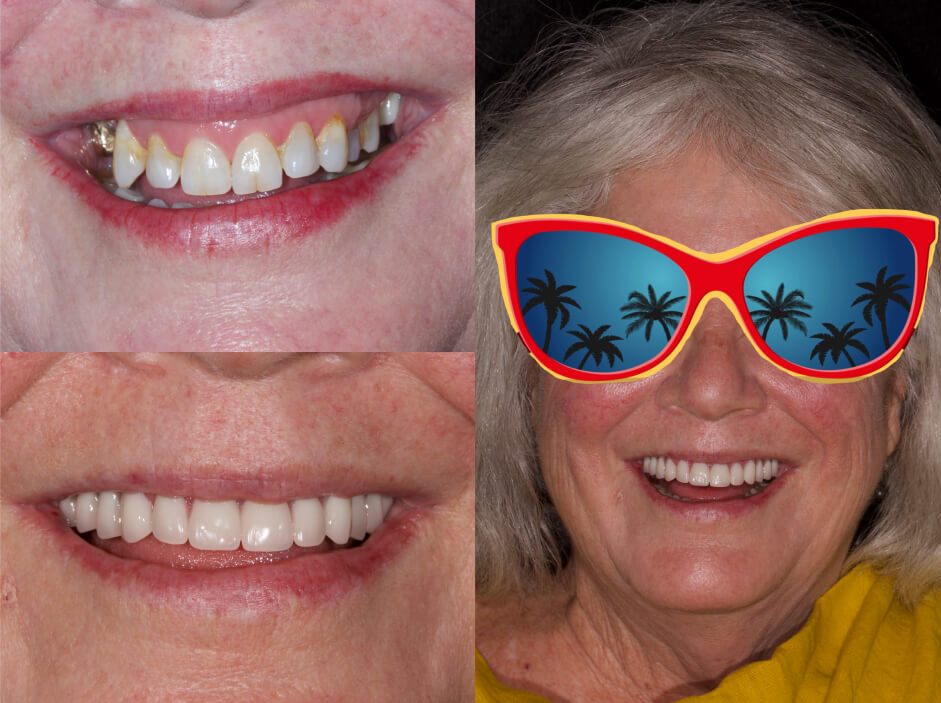 Dental implants and a permanent implant-supported denture
Conservative veneers were used to achieve color and shape changes to exceed expectations

Thin, conservative veneers on the front anterior teeth with advanced color matching
This client had a lot of damage and misplaced/misshaped teeth. Using a digital mock up we created a temporary smile that the patient was able to "test drive" before we moved on to permanent restorations.
This friendly fella had years of wear and bite issues that created progressively worsening functional and esthetic issues. After test driving a prototype smile we restored his confidence with restorations that look natural and even.
Losing a front tooth can be one of the most traumatic events in a person's life. In this case an implant and custom stained crown with advanced techniques created a seamless addition to her very unique smile to regain her confidence.
Coffee is a non-negotiable way of life for many of our clients. Our in-office whitening treatment is one of the only whitening treatments that is not harmful to teeth, minimizes sensitivity and produces some of the whitest results in as little as 2 hours.
This young lady had a little accident and we were able to bond her tooth and restore her smile without the need for any anesthetic.

This friendly patient noticed shifting of her teeth over time that resulted in chipping of restorations, headaches and bite issues. A combination of thin crowns along with a special bite guard to be used at night created harmony and improved esthetics.

Uneven spacing can create some challenges when replacing missing teeth. For this patient we were able to create a very natural replacement for her missing teeth.

The way light reflects off teeth can make them appear dark and small. By simply replacing the old bonding material with a cosmetic bonding we were able to brighten up her smile and restore her confidence in less than an hour.
Advanced color matching and anterior crowns

Advanced color matching, digital shade guide, and custom ceramic crown on single front tooth
Restoring function and confidence with Digital Smile Design, crowns, and veneers
Combination of a couple thin veneers and crowns
Conservative color-matched bonding

Advanced color-matched bonding

Digital Smile Design, crowns, and bridges
We restored her broken and shifted teeth with crowns, splinting and advanced color matching

Advanced digital shade matching and custom ceramic crown
A combination of thin porcelain veneers and crowns were used to erase years of erosion and wear